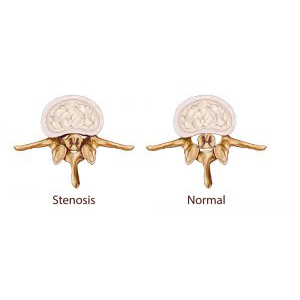 What is Spinal Stenosis?
Thursday, May 10, 2018
Spinal stenosis is a medical term used to indicate the "narrowing of the spinal canal", a common result from any number of underlying causes affecting the spinal cord. As the spinal canal constricts, it places pressure on the spinal cord and nerve roots of the spine, causing intense pain and suffering as often seen in many cases.
Narrowing of the spinal canal, or spinal stenosis, can be caused by many factors, but most commonly develops as a result of degenerating discs due to aging. In other cases, spinal stenosis can be a result of the spinal canal failing to provide stability and protection, diseases present at birth, spinal tumors, or even injury. While there are many factors leading to spinal stenosis, there are also numerous treatment options available to control the symptoms and pain.
If you believe you are suffering from spinal stenosis, or showing other signs of a painful spinal condition, please request an appointment through our contact page or call the main office of the NeuSpine Institute to schedule an appointment for evaluation at either our Wesley Chapel or Trinity location.  Our team of highly-skilled doctors and medical healthcare workers will work together to provide you with a comprehensive diagnosis and a customized treatment plan for your condition.
Causes
As stated above, there are many causes leading to spinal stenosis, including:
Aging, usually found in adults 50 years and older
Bulging or herniated discs
Bone Spurs
Compressed tendons and ligaments
Arthritis: Rheumatoid or osteoarthritis
Tumors, or irregular growths of soft tissue
Trauma or injury
Congenital, such as structural deformities present at birth
Obesity
Common Signs and Symptoms
Based on the cause and the exact location of the narrowing, signs of spinal stenosis can vary. Common symptoms include:
Discomfort while sitting or standing
Local pain in the lower back or shoulders
Pain or weakness in the thighs, buttocks, or below the knee
Numbness or tingling in the shoulders or legs
Muscle weakness
Limited mobility or loss of fine motor skills
In severe cases of spinal stenosis, loss of bladder or bowel functions
Diagnosis
The NeuSpine Institute is home to state-of-the-art spinal diagnostic tools to assist our doctors and surgeons to determine the exact nature of your spinal condition, an important first step in developing your treatment plan. Usually the diagnosis process will include:
Detailed medical history with specific questions related to your symptoms, pain and lifestyle
Complete physical exam to pinpoint exact location of pain, tests for flexibility and muscle strength
Medical imaging such as an MRI, CT scan, X-rays or bone scans
Electro-diagnostic testing
Treatment
Just as there are many causes leading to spinal stenosis, there are many treatment options. At the NeuSpine Institute we believe a conservative treatment plan is the best approach to control your symptoms and to bring about the pain relief you need. In most cases, spinal stenosis can be successfully treated non-surgically, with treatment options including:
Activity modification
Specific exercise plan, such as riding a stationary bike, walking or swimming
Physical therapy focusing on stretching or strength exercises
Medication to relieve pain and inflammation, such as acetaminophen or nonsteroidal anti-inflammatory drugs, or other prescribed medications
Lumbar epidural steroid or anesthetic injections
Weight loss
Depending on the cause and the severity of the narrowing of the spinal canal, in some cases, minimally-invasive surgery may be indicated in order to create the space necessary within the spinal canal to alleviate the pressure on the spinal cord and nerves. Your medical team at the NeuSpine Institute will discuss with you all non-surgical and surgical treatment options.
Spinal stenosis is a painful and debilitating condition adversely affecting the quality of your life. There are treatment options available to help you, and at the NeuSpine Institute, our dedicated medical team has successfully helped patients return to a pain free and normal lifestyle. Please contact the NeuSpine Institute to schedule your evaluation appointment at either our Wesley Chapel or Trinity location.