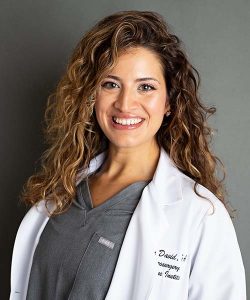 Shadin David, PA
Shadin David is a certified Physician Assistant and graduate of the Physician Assistant Program at the University of Bridgeport. She was president of her Physician Assistant class as well as her undergraduate exercise science class at the University of South Florida. Shadin has been working in spine surgery since 2015 and is robotic surgery trained and certified. She has a strong passion for finding the cause of her patient's complaints and helping them get their life back.
Shadin grew up in St. Louis, became a Tampa resident in 2003 and joined the NeuSpine team in February 2018. Her hobbies include being on the water, traveling, working out and spending time with her family.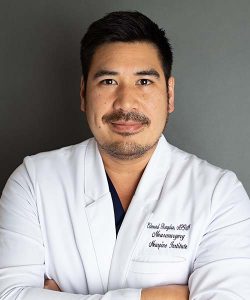 Edmund Bongolan, ARNP
Edmund Bongolan is an advanced registered Nurse Practitioner with a Master of Nursing from the University of Tampa; he also has an undergradate degree in Biology from Barry University.
Edmund was born in California but has called Tampa home for most of his life. His hobbies include fine dining, reading, traveling and cycling.
He has been with the NeuSpine team since August 2018.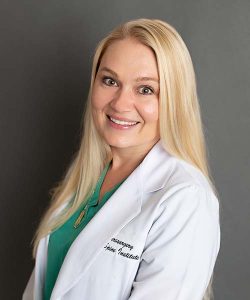 Lindsey Cornwell, PA
Lindsey Cornwell is a certified Physician Assistant (PA) licensed in the state of Florida and California. Lindsey graduated from Massachusetts College of Pharmacy and Health Sciences in Massachusetts in 2014 with a Master's Degree in Physician Assistant Studies. She has been working as a Neurosurgical PA since 2015.
Before becoming a PA, Lindsey worked at the University of California in Irvine doing Alzheimer's disease research and obtained a Master's of Science in Gerontology at San Diego State University. She has also attended Harvard University for her pre-medical sciences diploma and has an undergraduate degree in psychology from Wheaton College in Massachusetts.
Lindsey moved from California to the Tampa area in 2019 and joined NeuSpine in March of 2019. She moved here with her husband, as well as their two dogs and two cats. In her free time, she loves to travel, snowboard, wakeboard and loves going to concerts.
Olga Barcelo, ARNP
Olga Barcelo is a board-certified Family Nurse Practitioner who obtained her degree in 2016 from South University. Olga has been in the healthcare field for over 15 years in the areas of emergency medicine and pain management. Her passion for spine health and chronic pain brought her to join the Neuspine Institute where she has a strong desire to help patients return to their optimal well being and maximize their quality of life.
Olga is originally from Colombia and is fluent in Spanish and English. Her favorite hobbies are spending time with her family, reading, traveling, and outdoor sports.
Gabriella Artlip, ARNP
Gabriella is a certified Nurse Practitioner who graduated from Chamberlain University with honors. She is an active inducted member of Sigma Theta Tau which is a nurse practitioner organization that helps throughout the community. Gabriella started with NeuSpine in November 2019. She has been a wound care and medical-surgical nurse for the past three years. In her free time, she likes to CrossFit with her husband and does anything water-related. She is currently back in school for her Doctorate of Nursing Practice.